Wow. We're blown away. When All Out members step up they really go ALL OUT. In less than 5 days, more than 2,000 of you helped answer the challenge to unlock an amazing $50,000 to fight anti-gay laws worldwide. We can't tell you how much impact this will have in the fight to legalize love – everywhere.

AND, the generous supporter who issued the challenge was just as inspired by your response. So inspired, in fact, that we've been issued a NEW challenge – if just 1,000 more people make a gift in the next 24 hours, we'll get a bonus US$10,000* to fight dangerous anti-gay laws worldwide.
This is such a critical time. On Monday, a man named Roger in Cameroon lost his case challenging his 3-year prison sentence under an anti-gay law. In Russia, there's a proposed law before Parliament that would make it illegal to even talk about being gay. With your gift today, we can make sure we're able to stand up to these laws where they're already sending people to jail. We can stop new laws just like them from passing. We can respond whenever crises like these emerge. By giving now, you can help us reach our most ambitious fundraising goal ever.
Donate today: www.allout.org/fight-back

* US$10,000 = €7.731, £6.125, Ar$48.637, R$20.791

---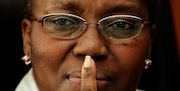 The opposition is fighting hard but we're so close to meeting our goal!
Dear Member,
You've heard there are more than 76 countries in the world where you can already be jailed for being gay, and 10 where you can be killed or imprisoned for life. If the "Kill the Gays" bill comes back in the new year, Uganda could become number 11.
Our opposition is fierce, well-funded, and they are fighting harder now than ever before. American evangelicals with millionaires backing them are pushing a right-wing agenda in Uganda. They've teamed up with Ugandan leaders who want to distract voters from the real problems they're failing to address – like corruption. That's how the "Kill the Gays" bill was born.
Anti-gay extremists will move from country to country, creating number 12 and 13, but we have an amazing opportunity to come together now and stop them on every front. If 2,000 of us give to All Out before the deadline, we'll unlock a US$50,000* grant to fight the anti-gay laws like the "Kill the Gays" bill, and do the same to others all over the world.
THREE DAYS LEFT: As of this morning we're only a few donations away from meeting our goal and unlocking the challenge grant! Will you give to fight anti-gay laws today?
It doesn't matter how much you give – every little bit counts. We know we have what it takes to make a real difference.
You know All Out is ready to leap into action when we're needed most. When the Ugandan Speaker promised to pass the "Kill the Gays" bill before Christmas or when the Nigerian parliament tried to slip the "Jail the Gays" bill under the radar, we were there, fighting back. And All Out is in it for the long-haul – when we helped 12 people in Iraq escape violent attacks on the streets or when we helped get legal support for 2 women in Cameroon arrested when they were accused of being lesbians.
But with opportunistic, homophobic forces spreading out across the globe, we need to be there pursuing equality before they can inflame more hate. Will you make sure we have the resources we need to respond where the need is greatest? Give before the deadline and if we meet our goal, your gift will be worth an extra US$50,000 to fight these anti-gay laws.
Three days to make your gift count for more: www.allout.org/fight-back
When we are standing together, we can achieve as much positive change in the next 5 years that would otherwise take 50. But, we need to go on the offensive and demand the right to love and be loved. It's time to upset the status quo in the parts of the world where it is hardest to be gay, lesbian, bi and trans. It's time to go All Out – and make it count more than ever.
Thank you,
Andre, Guillaume, Hayley, Jeremy, Joe, Kate, Leandro, Mike, Pablo, Sara, Tile, and Wesley
P.S. All Out members come from all walks of life, ages, and nationalities – and we know not everyone can make a financial contribution when doing so could put their very lives in danger. If you're fortunate enough to be in a position to donate for equality today, please consider making a gift for someone who can't.And if you can't make a gift at this time, you can still help unlock the challenge: forward this email to help get the word out and activate your network to meet the goal. Every effort makes a huge difference.
*US$50,000 = € 38.238, £ 31.054, Ar$ 242.475, R$ 105.060



Support All Out!
We don't take money from governments or corporations, so the only people we have to listen to are our members. Our tiny team stretches every contribution to make them count.
All Out is bringing people together in every corner of the planet and of every identity - lesbian, gay, straight, bisexual, transgender and all that's between and beyond - to build a world in which everyone can live freely and be embraced for who they are.
This is a campaign of Purpose Action, a 501(c)(4) nonprofit organization.
Our mailing address is:
Purpose Action
224 Centre St
New York, NY 10013
Copyright © 2012 AllOut.org, All rights reserved.