https://www.allout.org/stand-with-nigeria-lgbt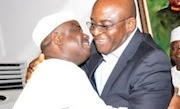 Crisis in Nigeria: Men accused of being gay have been whipped in courtrooms and jailed, while angry mobs protest outside, shouting for them to be stoned to death.
Will you stand with Nigerians to oppose a new anti-gay law and end the violence?

On Thursday, 14 men were dragged from their homes by a mob, accusing them of being gay. Four of them were then attacked by police. Dozens of gay men have been arrested across Nigeria after a new anti-gay law passed weeks ago.
But brave Nigerians at home and abroad are standing up against this crack down – and they're asking for help from people around the world.
A group of Nigerians have launched their own petition on the All Out website, and are asking each of us to add our names to help end the arrests and stop the mob violence.
There's a lot that could be done to affect Nigeria's new anti-gay law. But it all starts here, by getting the attention of the Nigerian Government and all of it's officials. So far, they've managed to avoid any major criticism! Their blind-eye towards brutal violence has been overshadowed.
We could make our outcry so loud that the largest corporations in Nigeria take notice. We could push our own governments to do what they can to stand with Nigeria's LGBT community.
We've already achieved so much in 2014. Russia's anti-gay law has tarnished their entire Olympics. Together, we pushed a global super-power so that even their own politicians began proposing changes to the law.
Thanks for going All Out,
Andre, Hayley, Jeremy, Marie, Sara, and the rest of the All Out team.
P.S. Ugandan LGBT activists are still fighting with days left to stop a similar law in their country, formerly known as the "Kill the Gays" bill. If it becomes law, all lesbian, gay, bi and trans people could be sent to jail for life! President Museveni just said he's going to sign it, but there's still a chance to stop it. Sign now to help kill the bill:
https://www.allout.org/kill-the-bill


SOURCES:
Support All Out

We don't take money from governments or corporations, so the only people we have to listen to are our members. Our tiny team stretches every contribution to make them count.
All Out is mobilizing millions of people to build a world where no person will have to sacrifice their family or freedom, safety or dignity, because of who they are or who they love.
This is a campaign of Purpose Action, a 501(c)(4) nonprofit organization.
Our mailing address is:
Purpose Action
115 Fifth Avenue
New York, NY 10003
USA
Copyright © 2014 All Out, All rights reserved.