http://www.independent.com.mt/articles/2015-04-14/local-news/Curia-Fr-Montebello-to-continue-to-follow-Church-practices-and-discipline-6736133782
Tuesday, 14 April 2015, 13:40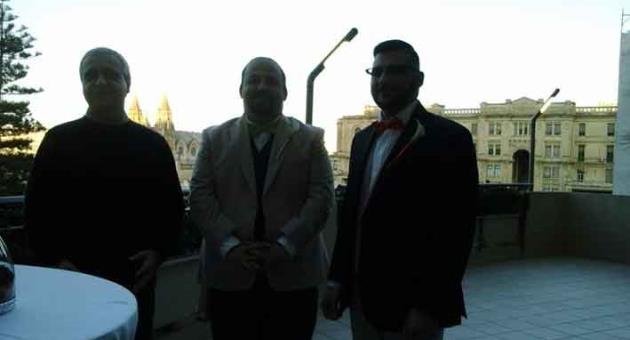 Fr Mark Montebello has agreed to stop going against Church teachings, which say that priests should not officiate during ceremonies involving gay people.
This was the outcome of a meeting of one hour between Archbishop Mgr Charles Scicluna and the Dominican Friar, following a story in The Malta Independent which included photos of Fr Montebello blessing the rings of a gay couple during an engagement ceremony.
The engagement ceremony was between Nicholas John Vella and Edward Borg Bonaci.
In a terse statement, the Curia stopped short of reprimanding the priest, who has been involved in previous controversies with the Church.
But the Curia made it clear that while Fr Montebello is being encouraged to continue his pastoral work with gay people, he should no longer go against the Church's guidelines.
A Curia spokesman, explaining the Church's statement further, said that "in terms of church practice and discipline, the ritual blessing of engagement and wedding rings, and of engagement promises and marriage consent, is only allowed for engagements and marriages between a man and a woman."
Archbishop Mgr Scivluna reiterated the same concept during a phone-in programme on the Church's radio station RTK.
This is the full text of the statement:
"Archbishop Charles J. Scicluna and Fr Joe Galea Curmi, Vicar General, today, at noon, met with the Provincial of the Maltese Dominican Province, Fr Frans Micallef O.P., and Fr Mark Montebello O.P., at the Archbishop's Curia, Floriana.
"During the cordial meeting, the Archbishop encouraged Fr Mark to continue his outreach to gay people, and requested that he continue to follow Church practice and discipline in his ministry, especially in the celebration of sacred rites and Church rituals.
"Fr Mark thanked the Archbishop and the Vicar General for their support and agreed that in his pastoral ministry to gay people he would continue to follow Church practices and discipline."
Mgr Charles Scicluna called an urgent meeting with Fr Mark Montebello after a story carried by The Malta Independent which exposed the priest blessing the rings in an engagement ceremony between two gay men last Friday.
Yesterday, The Malta Independent published a photo showing Fr Montebello blessing the rings in an engagement ceremony.Pictures of the ceremony had been published on Facebook.
The officiating of civil unions, including engagement ceremonies, by priests goes against the guidelines of the Church.
Fr Montebello has openly declared his position in favour of gay marriage and civil unions. On 16 May, 2005, in an interview published by Maltatoday, Fr Montebello, in full contradiction of the Catholic Church teachings, had said, "that there needs to be a change in vision. The same arguments against gays were used against women in the past."
He had also added that he would not refrain from blessing the union of two gay persons if they asked him to do so. He had said: "I would bless them. Of course I can't celebrate a gay marriage as that is against Church rules, but I would give them a blessing."
Archbishop calls urgent meeting with Fr Montebello
Priest blesses rings of gay couple