Announcement in wake of supreme court decision will affect all non-US citizens who are married to a US partner of the same sex
http://www.theguardian.com/world/2013/aug/02/us-visa-applications-same-sex-couples
Matt Williams
in New York
theguardian.com
, Friday 2 August 2013 16.42 BST
Jump to comments (57)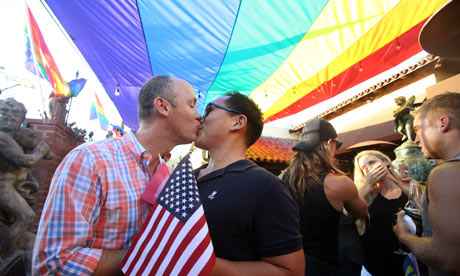 Gay couple Richard Kelley and Steven Jung celebrate the supreme court's Doma decision in June. Photograph: Krista Kennell/Zuma Press/Corbis
The US will begin processing visa applications from same-sex married couples in the same manner as heterosexual spouses, secretary of state
John Kerry
confirmed on Friday, bringing full equality to the country's immigration system for the first time.
The announcement, made at the US embassy in London, will affect all non-US citizens who are married to an American partner of the same sex, regardless of whether their country of origin recognises same-sex unions.
Last month, the Department of Homeland Security said it would begin reviewing petitions filed on behalf of the same-sex spouses of US citizens.
It is the latest consequence of the decision by the
US supreme court
to strike down the Defense of Marriage Act (Doma), which outlawed federal recognition of gay marriages, in June.
The
Obama administration
has undertaken a comprehensive review of federal marriage rules since the supreme court ruling.
Speaking in London, Kerry said: "When same-sex couples apply for a visa, the Department of State will consider that application in the same manner that it considers the application of opposite sex spouses.
"If you are the spouse of a US citizen, your visa application will be treated equally. If you are the spouse of a non-citizen, your visa application will be treated equally. If you are in a country that doesn't recognise your same-sex marriage, then your visa application will still be treated equally at every single one of our 222 visa processing centres around the world," Kerry said.
A bill legalising same-sex marriage in England and Wales received royal assent in July and comes into effect early next year. A similar measure has been proposed for Scotland. Without these measures, the new rules announced by Kerry in London on Friday would not have benefited British citizens, as they do not cover people in civil unions.
The new guidelines will take effect immediately.