http://www.independent.com.mt/articles/2014-11-07/local-news/I-DO-Inspired-by-vintage-The-couple-Emmanuel-Stephen-6736125186
Friday, 7 November 2014, 12:15
Last update: about 23 hours ago
Emmanuel Xuereb, 41, TV Programmes Producer and Chef, and Stephen Aquilina, 49, TV Programmes Producer. Photos Kitz Klikz by Keith Darmanin and Etienne Farrell
"We both felt it was the next step in our relationship for a long time, however, the lack of a law acknowledging gay relationships was a stumbling block. Once the law was introduced, it was time for us to go for it," Emmanuel told I Do. In fact, they submitted their application on the same day the law was passed.
Emmanuel planned a very romantic proposal for Stephen. True to being a chef, he proposed to Stephen during a unique gastronomic experience on the Eiffel Tower in the Jules Verne, a Michelin accredited restaurant overlooking the city of Paris.
Emmanuel planned the ceremony and the celebratory dinner himself. "Organising is a passion not a chore for me. Since we did not have a stipulated budget, I had no restrictions. I took it easy and knew well what we both wanted. Planning did not take too long as otherwise it would have become a tiring and boring experience. I recommend couples who are planning to tie the knot to be prepared with ideas of they want as this saves time," Emmanuel added.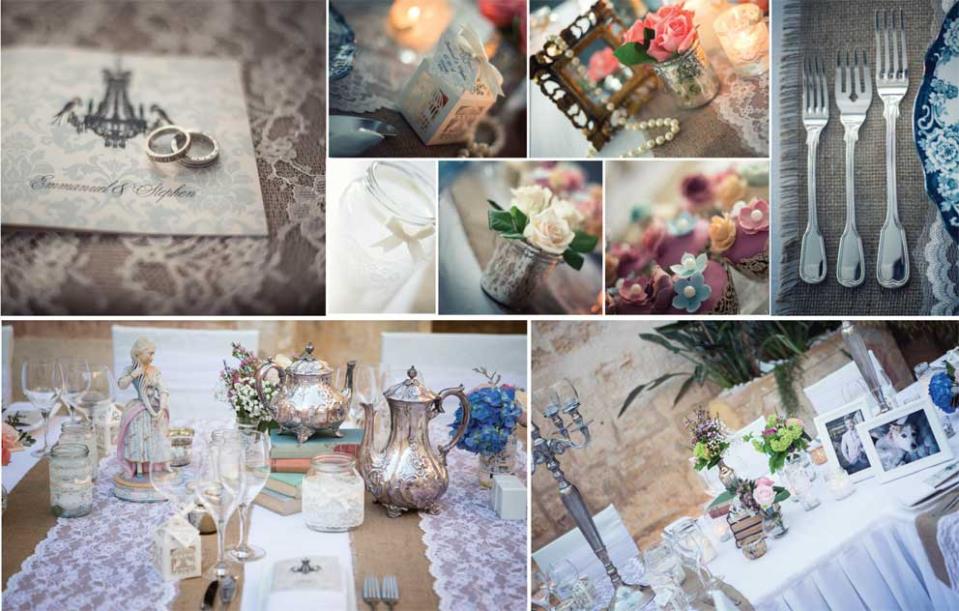 They were both keen on wearing vintage looking outfits that are both fun and stylish for their big day. Initially, they planned to buy their suits from abroad to find something unique. Luckily, they stumbled upon Bortex's new Gagliardi collection while shopping last March and both liked it.
"It felt like it was meant to be. We coordinated blue and pink matching outfits, accessorised with bow ties, braces and vintage styled shoes by Scotch and Soda from Junction.Shasha Fabri from Makeup by Shasha took care of the make up for the couple's relatives and friends. Emmanuel and Stephen exchanged Bulgari rings.
Both are made from white gold but Emmanuel's is slightly different with a single encrusted diamond. Palazzo Castelletti in Rabat was chosen for both the ceremony and a seated dinner for around 50 guests of relatives and close friends. The guests received beautifully styled invitations with a silhouette of a crystal chandelier and two birds printed on a background of faded damask print in cream and pale blue. The invitations were designed by Boo & Co.The venue was opened to the public very recently.
Emmanuel and Stephen fell in love with it after dining there a few times. "It was perfect for a small do and catered for all our needs. The roof terrace was used for the civil ceremony, and all of down stairs plus the courtyard was used for the setup and meal. After the civil ceremony there was a cocktail hour and finger food was served before the couple and their guests went downstairs for dinner."We decided to be loyal to the venue's style and enhance the palazzo's elegance and architecture. On the big day, the venue looked amazing.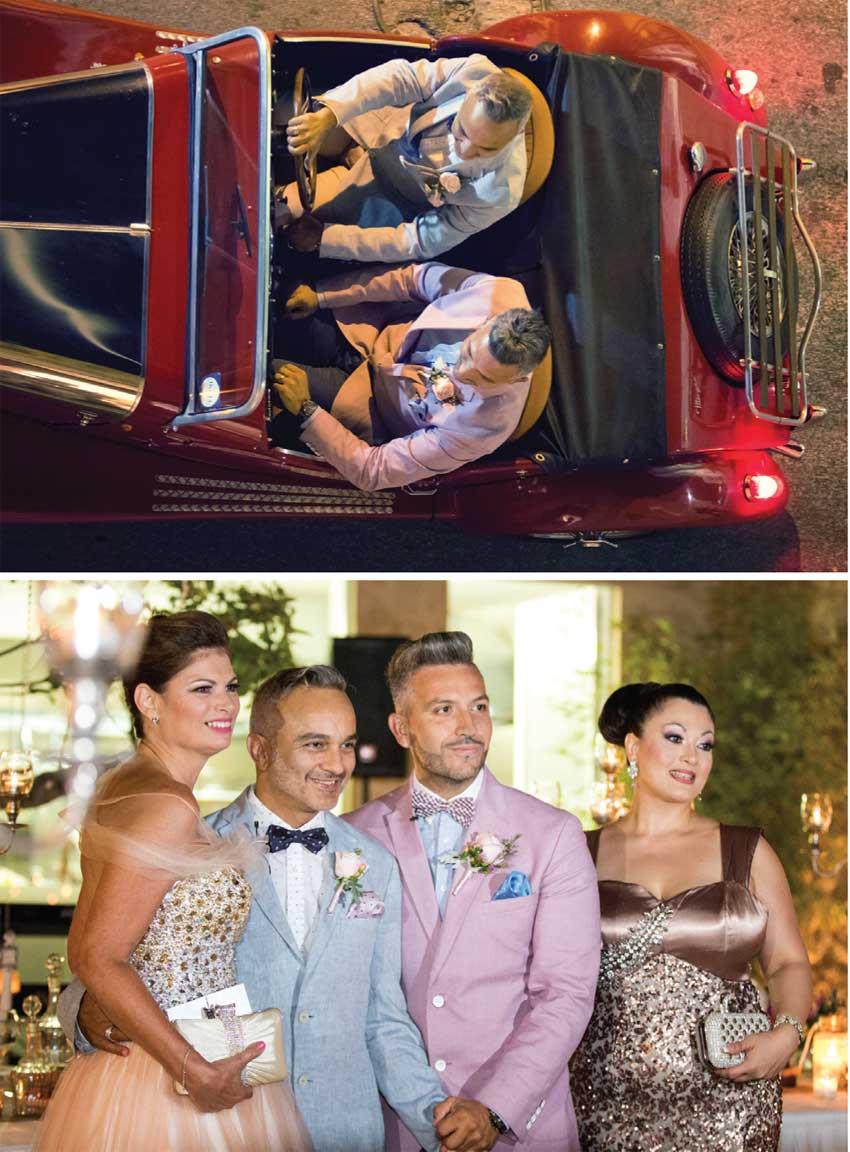 A large white curtain backdrop and two large glass flower arrangements were set up for the ceremony. We also had lots of lanterns and candles down the aisle aligned along a white carpet.
"The decorative style in the reception area too was vintage inspired. "Antique collections from our home including crystal and silver pieces, vintage jars, lace runners, cake stands and lots of flowers were brought in. We also had 17 large candelabra on the dining tables and over 250 vintage-style candle holders.
The look was so elegant. How often do you go to a celebration with such an eclectic clutter of antiques on the dining tables? Guests told us that they enjoyed the beautiful romantic dinner and the evening felt like a fairy-tale unfolding in an enchanted garden."Each guest was presented with a personalised menu, with a choice from three menus also designed by Boo & Co. As for souvenirs they were given a vintage-styled scented candle enclosed in a beautiful laser cut cream bird cage box, with coordinated thank-you tags and a ribbon on top.
The cutting of the cake was among the highlights. All the guests eagerly awaited the cutting of the cake which to taste the cake which was handmade and carefully decorated by Emmanuel himself.
A particularly funny moment was when the fire alarm set off with the smoke emitted by the sparklers on the cake."We have so many memories of happy tears, special moments and special songs. The occasion was extremely relevant to both of us. Up till now, a gay relationship had no legal bond at all. We are going to celebrate 17 years together this November.
It made our relationship complete," Emmanuel said. He changed his surname to Aquilina after the civil union.
Emmanuel and Stephen spent a couple of days relaxing in Taormina after the ceremony.
Their real honeymoon is going to be next July, as soon as their busy schedules packed with producing four TV programmes on all Maltese TV stations are over.
They plan on visiting Athens, Santorini and Mykonos next Summer.
I DO magazine out now
https://www.youtube.com/watch?v=S9y6eABcoi0